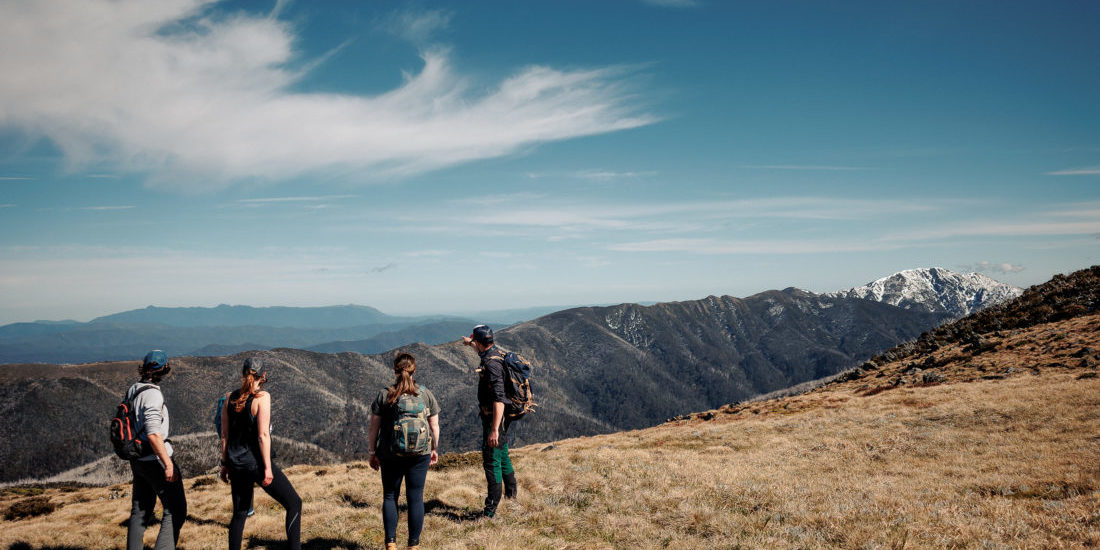 After such a long 2021, and with the easing of travel and social restrictions, it's finally time to let the sunshine in and escape to a place far away from the everyday. Victoria's High Country is happy to oblige with the launch of the Festival of Walks, showcasing eight brand new, bookable walk-based experiences around the High Country this Summer, developed as part of a Kickstart product development project in 2021.
The campaign will be in market from 16 Jan – 30 March, and will feature on OOH; online video; content partnerships with Concrete Playground, Timeout and We Are Explorers; Newscorp native ad drivers and social media.
Tourism North East will continue to monitor the COVID-19 situation and take action to pause activity should we feel it isn't safe to encourage visitation or if government restrictions come into place.
The new experiences mix large dollops of the High Country's renowned food and drinks with stunning valley and mountain scenery as well as new ways to explore picture-postcard villages the slow way. 
Here's a wrap-up of what's on offer:
An Evening at Craig's

, combining a guided 3km hike to the iconic Craig's Hut, made famous by the movie, the Man from Snowy River, where guests will enjoy a high-end dinner prepared by chef Megan Knapp, plus a two-night stay at the magnificent BullerRoo, just outside Mansfield.

High Country Hiking Tours

and

BullerRoo

have joined forces to create this outstanding experience. 
At Mt Hotham,

Hike & Feast

with Jean-Francois Rupp, founder of

Alpine Nature Experience,

 combines a fully guided small-group hike with a touch of luxe, like gourmet lunch, dinner, drinks and campfire singing at the eco-village, punctuated by a spectacular day's traverse of the 18km Hotham Huts Walk.
Where there's a Grill there's a Way

is a collaboration between All Terrain BBQ and Alpine Nature Experience. A short, guided, family-friendly walk from the alpine village of Dinner Plain village to Precipice Plain with its incredible views across the remote Dargo Valley for a delicious gourmet lunch.
In the Kinglake Ranges,

The Cheeky Fox Trail

is a n

ew family experience including accommodation at the

Cheeky Fox Retreat

, a short walk following a beautifully designed guidebook with stops and fun activities along the way. The full day experience finishes with a picnic in the paddock, locally crafted drinks from the Cheeky Horse Float Bar and curated games for the kids. 
Secluded Adventure Picnic

Spend a magical afternoon by the lake at a private waterfront location at Lake Moodemere Estate in Wahgunyah. The experience includes a lakeside walk to a chef-prepared private picnic, guided cellar door tastings and for the full experience, two nights accommodation at the super-cute Lake House.
Not another Ned Kelly Tour

History comes to colourful life on this informative, entertaining tour of Ned Kelly sites in Benalla. See authentic Kelly memorabilia, modern large-scale interpretations of the Kelly sa

ga by street artists and discover that, just when you thought you knew everything there was to know about Australia's most famous bushranger,  wait… there is definitely more!

Along the way, guests enjoy a delicious morning or afternoon tea at the Bootmaker's Shop where they can continue to squeeze every last fact, legend and tale from their expert tour guide, Lindsay, in between bites.
Walk, Wine & Wellness – Beechworth naturally

is

a beautifully bespoke experience consisting of – you guessed it – walking, wine and wellness! This experience offers a chance to wander, relax and unwind in historic Beechworth, and takes guests through a journey of scenic wanderings, yoga or pilates and meditation, local produce tastings and private luxury accommodation.

Step into the high life of Falls Creek and meet the locals that live in one of Australia's highest communities when you

Walk the High Life

. Guests will be guided through a journey of the landscape, discover the nature and the history of the people on a six-hour hike across the Bogong High Plains. Dine out on the tastes and stories with the people who give this high life its flavour. Stay at one of the lodges that was founded when the village was evolving and offers friendly alpine hospitality.
These new experiences add to the already impressive guided ways to amble or stride out in Victoria's High Country. Head to victoriashighcountry.com.au to explore this spectacular region on two feet.
We hope you enjoy the view.
Want to stay in the loop?