TNE's three-year strategic tourism focus is identified in the TNE Three Year Strategy 2019-20 - 2021-22. It complements the broader regional Destination Management Plan by highlighting TNE's specific role in realising the long-term tourism objectives of the entire region as established in that strategy.
This approach has been adopted to ensure true synergy between the efforts of TNE and its local government and industry partners, with all parts effectively maximising the efforts and outcomes of the whole region.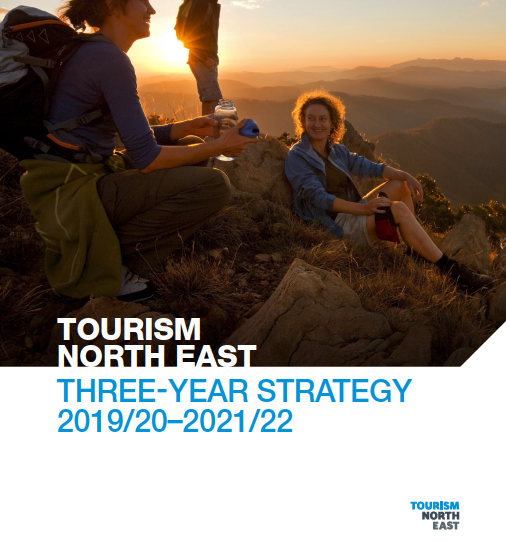 PRODUCT PILLARS
While the High Country features a diverse product offering, TNE's strategic efforts focus on the region's product pillars – the experiences that are considered strengths and tourism drivers for the region:
Cycle tourism
Bikes are a true strength of the region, particularly associated with the disciplines of mountain biking, rail trails and road cycling, which are available throughout the High Country. A robust bike infrastructure network, supported by high-quality bike experiences that are integrated with other key product pillars, ensure that this offering delivers strong tourism benefits to the High Country.
Food, wine and craft beer
The food, wine and beer product is mature and diverse, encompassing winery cellar doors, world-class restaurants, seasonal farm gate experiences, rich local produce, cooking schools, craft breweries and more. This product range has played a vital role in placing the High Country in the minds of visitors as a destination of choice for many years, and is important in that it acts as an anchor strength across all of the other product pillars.  Food, wine and craft beer campaigns are taken to market under the Feast High Country masterbrand.
Snow
This product pillar encompasses the vast array of unique snow-based activities available in the alpine resorts, which includes traditional sports like skiing and snowboarding as well as other snow experiences like skidoo rides, snow shoeing, dog sledding and snow tubing. The stunning alpine landscape also forms the perfect backdrop to enjoy food and wine experiences, luxury spa indulgences, a range of Village experiences and more.
Nature-based tourism
The High Country's unique alpine environments and rich fertile valleys make it a popular nature-based tourism destination. The most popular is walking: from village strolls, to historic town walks, bushwalking in our National Parks and even multi-day epics like the Falls to Hotham Alpine Crossing.  Visitors can also participate in horse riding across the region; fishing, boating and watersport activities on rivers and inland waterways; and adrenalin focused experiences such as abseiling, caving, paragliding and even cliff picnics!  Nature-based tourism is taken to market under the Walk High Country master brand
Arts and cultural heritage
Visitors associate the High Country with culturally enriching experiences that draw from the history and culture of the area. Aboriginal heritage, the rich gold mining history, the legend of Ned Kelly and the story of the Man from Snowy River are all iconic cultural heritage aspects of the region. The High Country also features unique artworks that capitalise on and draw inspiration from the surrounding landscapes, and a variety of museums and historic sites that celebrate these experiences.