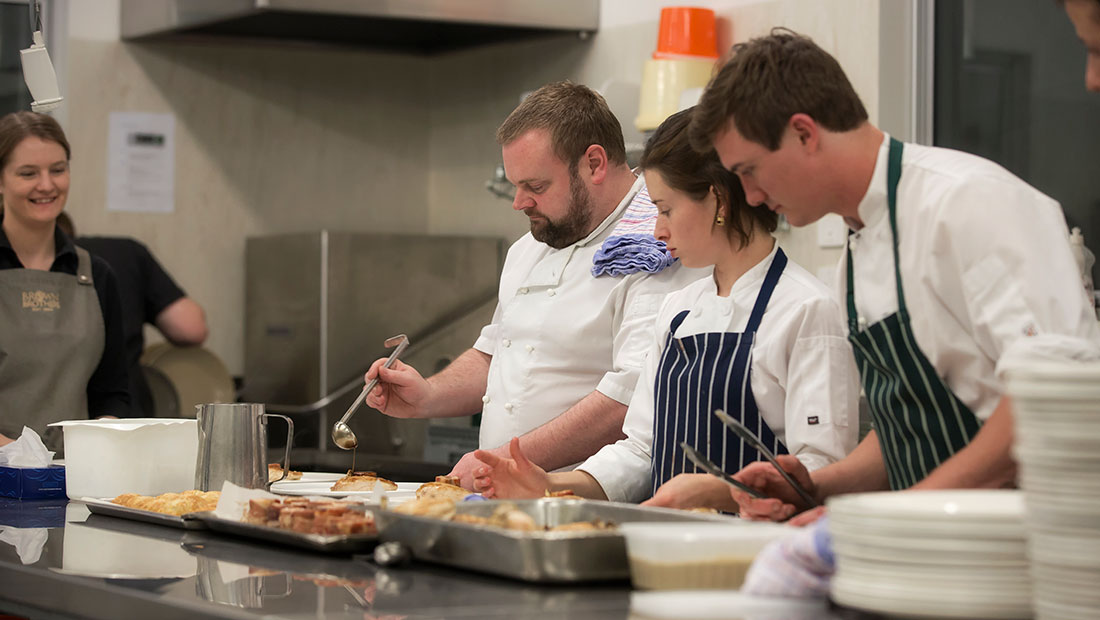 Pictured: Young chefs with Patricia's Table at Brown Brothers chef, Doug Elder, behind the scenes at the 2017 High Country Harvest Grand Opening Dinner.
Applications have opened for the Melbourne Food & Wine Festival Hostplus Hospitality Scholarship, an annual award given to a rising star in Australian hospitality.
Now in its fifth year, the scholarship offers the next generation of Australian hospitality workers a once-in-a-lifetime opportunity to travel the world to internationally acclaimed hospitality businesses and gain work experience with industry leaders.
The scholarship is open to any area of the food and wine industry – from the paddock, to the cellar, to the kitchen and includes all flights and accommodation, spending money and more.
Back in Australia, the scholarship winner will be partnered with a local industry leader for a year-long mentorship to expand their industry experience and connections in their chosen field.
This year, three shortlisted finalists will also be invited to participate in an exclusive development day with Hostplus ambassador and acclaimed Melbourne chef, Shane Delia. In addition, the three finalists will join international and local hospitality stars at the 2019 Melbourne Food and Wine Festival.
Applications close 4 May 2018. Open to all Australian residents aged 22-35 currently working in any area of expertise within hospitality. Full details at: www.melbournefoodandwine.com.au/festival-info/scholarship